Couple of gems I used to play
Everybody knows Mario but are these familiar to you?
Dweep
Dweep was a puzzle game that was released in 1999. It was published by Dexterity Software and until now I didn't know they made another games. Dweep was enough for me.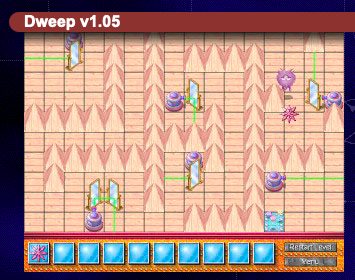 Look at that cute and cuddly creature.
It came with CD-ROM (like all of my games) and I still love the soundworld and music. I had the shareware version with 10 levels (and the level 10 was like the hardest) Even if there were cheat codes, I didn't know they exist.
Charlie the Duck
Let's do a Mario-clone with duck! The best thing was diving to another worlds!
It was published 1996 by Wiering Software. Very cute and short game.
Happyland Adventures & Happyland Adventures Xmas Edition
Both games were published 2000 by Free Lunch Design. Protagonist bunny to the rescue! Mission: Save creepy-crawlies (and xmas) What came as a surprise, those are not very long games. You can do playthrough in one hour. Is that a wormhole? Like, summer holidays lasted forever and forever and ever. And now weekend is like an hour?
Ducks
Let's do a Lemmings-clone, also with ducks! This was published 1998 by Tim Furnish, thanks Tim and Hungry Software.
Oh boy, how much I love this game.
I love the animation, level names, the goreness...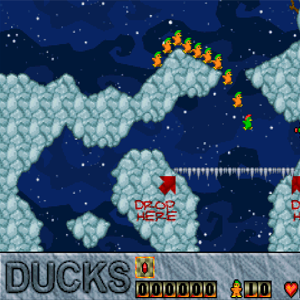 Those ducks have bad luck.
You see the pattern. The cutest character design is my weak spot. Those are pretty lame games in the game world, but I had fun playing them.
I like games that are simple, cute and with a touch of retro-feeling. Don't get me wrong, I admire people who enjoy playing huge game spectacles with complex storyline. I'm not that patient.
I don't think I ever played the "real" games and even today, I mostly play mobile games like PoGO. Playing is a great way to relax but I'm not using my brains for that.
©Text is my own, pictures are from here and here
.